Slid
The sliding window that allows you to merge interior and exterior.
The main innovation is the elimination of any visible rail on the floor and the alignment of the cladding by means of a top rail which allows the glazing to be suspended.
Compliance with the outdoor drainage regulations is ensured by means of a gutter, which may or may not be connected, depending on the integration situation and possibly more intense weather exposure.
A fixed tilting handle in the wall lifts the unit and allows easy movement of the element.
It is possible to motorize the lift in order to eliminate the tilting handle and thus obtain a remote unlocking or an external access authorization.
The minimum section of the frames guarantees the best transparency and luminosity of the window while integrating itself into the wall and ceiling.
The structural insulation is guaranteed by an incompressible and durable material with a resistance of 5,5 to 7,5 Mpa and a U-coefficient of 0,9w/m2k
In order to improve the integration of the upper profile, a blind or curtain box can be offered as an alternative to a finishing steel sheet.
A magnetic system for heavier glazing guarantees optimal handling of the element by everyone.
Materials of a pure design such as X-treme Bamboo, very resistant to humidity and 100% recyclable are proposed to match the best durability of the whole.
More information about the X-treme Bamboo
The innovation continues with the possibility of a horizontal motorization as well as profiles in densified wood (under development) offering other durable finishes.
If you want even more transparency, a glass version of the slid window is also available. As you can see on the picture, the wood on the lower part of the window has been removed.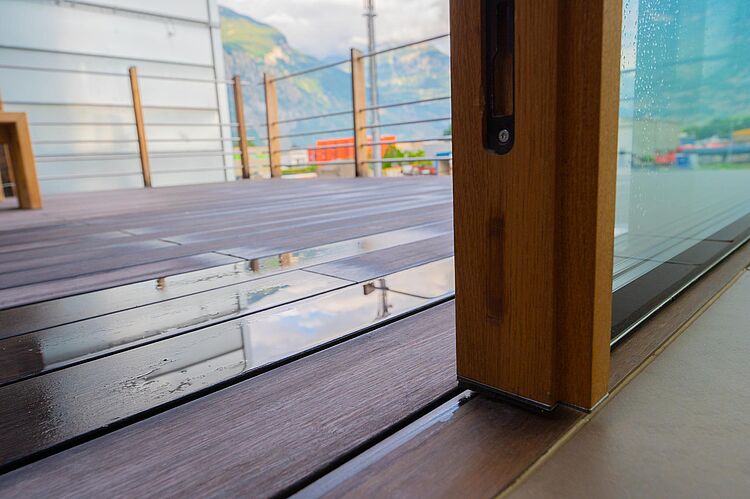 Create and order your own Slid with our configurator:
Discover in pictures the integration of Slid windows in private homes: